This Sunday I'll be live mapping the debates at the marvellous IQ2 Green Festival on Climate Change at the Royal Geographical Society in London.

The festival, for which tickets are still available, has assembled a fascinating group of climate change speakers, including: Professor Mohan Munasinghe, Sir David King, Stanley Johnson, Professor Chris Rapley, Joan Ruddock, The Viscount Monckton of Brenchley, Mark Woodall, Tony Juniper, Fiona Harvey, David Bellamy, Malini Mehra, Christine Loh, Isabel Hilton, Jonathon Counsell, Steve Koonin, Jeremy Leggett, Tom Burke, Ed Crooks, Michael Keating, and Oliver Tickell.
The full schedule encompasses a mixture of debates, seminars, and panel discussions, including: Climate change is the greatest threat to humanity, Countdown to Armageddon – how long have we got?, Can Asia go green? Can technological innovation save us from disaster?, Green Herrings – what we need and needn't bother doing, Biofuels – essential or a waste of time, UK political parties aren't serious about climate change, Green Capitalists – a contradiction in terms?, Geoengineering – is it the silver bullet? Renewables – wind, solar & other – are they worth the bother?, and Bioperversity: An obituary for the world's rainforests and other major ecosystems?
I'll be aiming to map as many of points being made by the speakers on the day, and building on the initial seed maps over the subsequent days—and you'll be able to follow the maps developing online on the IQ2 Green Festival website and on the Debategraph home page.
The current work in progress on the existing climate change map is shown below:
Feel free contribute to the debate maps from afar as they are developing, and if you are planning to attend the event with a laptop, join in and we can use the maps as an intelligent, multi-dimensional conference back channel.
I'm delighted to report as well that Anna De Liddo will be joining me to map the debates, and that Anna and I will be using the maps as one of the first building block in this year's ESSENCE Collective Intelligence project on Climate Change in the build up to the UN Climate Change Conference in Copenhagen at the end of this year.
Many thanks to Edie Lush and her team for conceiving and organizing the festival—and if you are planning to attend, don't forget to say hello!
January 22, 2009 | Filed Under
Argument map
,
Climate Change
,
Collaboration
,
Collective Intelligence
,
Critical Thinking
,
Debate Map
,
Debategraph
,
Deliberation
,
Essence
,
Global Warming
,
Politics
,
Public Policy
,
United Nations
,
Visualisation
,
Web 2.0
|
1 Comment
And so the kaleidoscope turns, and we see the world anew.
Or do we?
Barack Obama's inauguration today as the 44th President of the United States of America, marks the end of a remarkable personal and national journey. Arrival at such a destination is a cause for global celebration. But as with all great journeys the arrival is also only a beginning.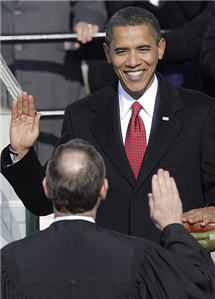 Obama is taking a leading role in a world system that is severely perturbed on multiple levels. Such perturbation often proceeds collapse: and can proceed the emergence of a more sophisticated and better-adapted system.
It's not clear—it never is—to what extent the choice of branching paths is open to us. But it surely behoves us to act as if it is.
My (personal) sense is that we face a mess of complex, interrelated and non-linear problems; sane responses to which lie beyond our existing methods and tools. In essence, we need to re-configure our modes of political thinking and organization to enable us—as local, national, and international communities—to move significantly closer to collective maxima of intelligence (both reasoned and emotional).
For those for whom the analogy is familiar, we're awaiting The Mother of All Demos in the political realm to match Doug Engelbart's technological masterpiece 40 years ago (which pre-figured much of the technological landscape that we inhabit and take for granted today). It's the social dimension of Engelbart's vision of augmented collective intelligence that lags behind our technological achievements: and it needs to catch up quickly.
The signs are that Obama, and the team around him, are mindful of this. As others have noted already, one of the most encouraging aspect of the Change.gov experiment was the speed at which the interaction on the site improved iteratively across the transition. The challenge now is how to crystallize this process—to enable genuine and deeply collaborative sensemaking—and how to set this process in motion in the first few months of the administration when the opportunity and receptivity to change are greatest—and when the character of the administration will be forged.

Readers of The Independent and others who have joined in developing the Obama and Gaza maps over the last couple of months have demonstrated on a smaller scale and in vitro that different and radically collaborative models of sensemaking are possible—and we are grateful to everyone who has participated directly so far, blogged about and embedded the maps, and to the BBC World Service's Digital Planet, BBC Technology and PRI's The World: Technology podcast for their support in spreading the maps more widely.
Both maps will continue to develop as exploratory exemplars of the kinds of cumulative, comprehensive and distillative sensemaking processes that the web is starting to enable—with the Obama map, in particular, shifting to a focus on the first 100 days.
Deeper challenges remain. The emerging set of collaborative sensemaking and deliberation tools of which Debategraph, is one example, are still nascent, still figuring out the basic principles—still more VisiCalc than Excel. The tools require a basic visual literacy that itself is only just beginning to emerge in society. And the maps, and other sensemaking constructs, require time to build and time for reflection in an impatient and attention-poor age.
But, today, of all days, is a day for optimism. The day on which Barack Obama embodies the realization that long journeys towards distant mountain tops can reach the summit.
Cross-Posted at: Independent Minds
January 20, 2009 | Filed Under
Argument map
,
Barack Obama
,
Collaboration
,
Collective Intelligence
,
Debate
,
Debate Map
,
Debategraph
,
Deliberation
,
E-democracy
,
Governance
,
Government 2.0
,
Politics
,
Public Policy
,
The Independent
,
US Election
,
Visualisation
,
Web 2.0
|
Leave a Comment