If you have been following the White House's groundbreaking Open Government Initiative over the past few weeks, you'll be aware already that Debategraph has been mapping the proposals emerging from the Open Government Brainstorming sessions on Participation, Transparency and Collaboration.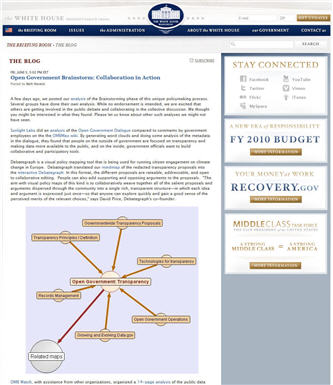 The Open Government Initiative moved into the third, and most significant, Drafting phase today—and we're delighted to note that the White House's Open Government team has entrusted this vital phase to our favourite wiki team at MixedInk (who, if you haven't discovered them yet, offer a truly innovative and powerful approach to the task of collaborative writing, which is ready to be applied in multiple contexts).
The initial Open Government Brainstorming and Discussion phases have been stimulating and generative, but the real collaborative work, the real collaborative responsibility, and the real collaborative opportunity lie in the next phase of synthesis.
So get writing!
…and, to help you on your way, here's the combined Debategraph of the redacted proposals from the three brainstorming sessions:
June 23, 2009 | Filed Under
Barack Obama
,
Collaboration
,
Collaborative Democracy
,
Collective Intelligence
,
Consultation
,
Creative Commons
,
Critical Thinking
,
Debate Map
,
Debategraph
,
Debatemapper
,
Deliberation
,
E-democracy
,
eGovernment
,
Government 2.0
,
Open Government
,
Politics
,
Public Policy
,
Visualisation
,
Web 2.0
,
White House
|
1 Comment
So what are we to make of the G20 Communiqué?
As part of The Independent's visual mapping of the London Summit, we have broken down the G20 communiqué into an interactive visual graph, that lets you comment on and rate each of the major points.
…and we want to know what you think about the measures proposed.
So, start exploring the interactive graph below—by clicking on the spheres—and log-in to tell us if you're feeling quantitatively eased or squeezed.
And why?

April 2, 2009 | Filed Under
Argument map
,
Barack Obama
,
Climate Change
,
Consultation
,
Debate
,
Debate Map
,
Debategraph
,
Downing Street
,
Government 2.0
,
Politics
,
Public Policy
,
The Independent
,
Visualisation
,
Web 2.0
|
2 Comments