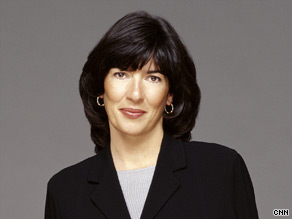 "I want this show to stir the global conscience. I have witnessed so much that it's time to start making real sense of it all"
As you may have spotted already, the collaboration between Amanpour and Debategraph launched on CNN last night, with Christiane's new live global program featuring interviews with the Secretary General of Nato and the Prime Minister of Spain.
If you missed lat night's episode, it's available via Podcast here.
Debategraph's working with Amanpour's production team and viewers to create debate maps around the interviews and global issues addressed in the programs – and to provide a forum for non-linear, interactive and cumulative debate to complement the program's thought-provoking analysis and interviews with the global leaders confronting those issues.
Christiane's aims for the program "to offer multiple perspectives… and serve as the hub for a global community of inquiring minds, hungry for a more daring perspective and a strong, clear, thoughtful take on international stories" emphasize the resonance between our mutual approaches and the reason why Peter and I are delighted to be collaborating with Amanpour's New York based production team.
The program airs on Monday to Thursday at 2100 CET, with a round-up of the best of the week on Fridays on CNN International and Sundays on CNN in the United States – and tonight's show features interviews with Tony Blair, Terje Roed-Larsen (UN Middle East Envoy), Dan Meridor (Israeli Intelligence Minister), and Saeb Erakat (Chief Palestinian Negotiator).
In conjunction with the launch of program, Peter and I have released a new interface for Debategraph (which will also feature in the forthcoming WAVE climate change project for the European Commission). More on both later — but for now here's a quick video introduction to the new Debategraph Stream interface:
September 23, 2009 | Filed Under
Argument map
,
CNN Amanpour
,
Collaborative Democracy
,
Collective Intelligence
,
Critical Thinking
,
Debate
,
Debate Map
,
Debategraph
,
Education
,
Media
,
Middle East
,
Politics
,
Public Policy
,
Tony Blair
,
United Nations
,
Visualisation
,
WAVE-Debate
,
Web 2.0
|
3 Comments
If you have been following the White House's groundbreaking Open Government Initiative over the past few weeks, you'll be aware already that Debategraph has been mapping the proposals emerging from the Open Government Brainstorming sessions on Participation, Transparency and Collaboration.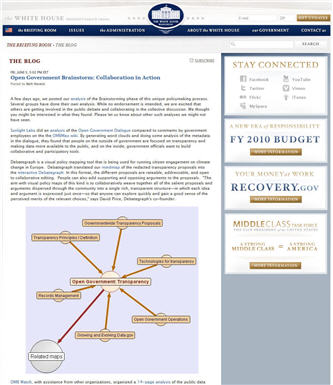 The Open Government Initiative moved into the third, and most significant, Drafting phase today—and we're delighted to note that the White House's Open Government team has entrusted this vital phase to our favourite wiki team at MixedInk (who, if you haven't discovered them yet, offer a truly innovative and powerful approach to the task of collaborative writing, which is ready to be applied in multiple contexts).
The initial Open Government Brainstorming and Discussion phases have been stimulating and generative, but the real collaborative work, the real collaborative responsibility, and the real collaborative opportunity lie in the next phase of synthesis.
So get writing!
…and, to help you on your way, here's the combined Debategraph of the redacted proposals from the three brainstorming sessions:
June 23, 2009 | Filed Under
Barack Obama
,
Collaboration
,
Collaborative Democracy
,
Collective Intelligence
,
Consultation
,
Creative Commons
,
Critical Thinking
,
Debate Map
,
Debategraph
,
Debatemapper
,
Deliberation
,
E-democracy
,
eGovernment
,
Government 2.0
,
Open Government
,
Politics
,
Public Policy
,
Visualisation
,
Web 2.0
,
White House
|
1 Comment