If you have been following the White House's groundbreaking Open Government Initiative over the past few weeks, you'll be aware already that Debategraph has been mapping the proposals emerging from the Open Government Brainstorming sessions on Participation, Transparency and Collaboration.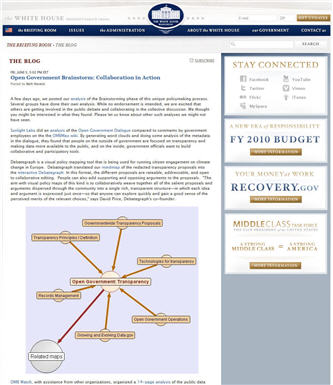 The Open Government Initiative moved into the third, and most significant, Drafting phase today—and we're delighted to note that the White House's Open Government team has entrusted this vital phase to our favourite wiki team at MixedInk (who, if you haven't discovered them yet, offer a truly innovative and powerful approach to the task of collaborative writing, which is ready to be applied in multiple contexts).
The initial Open Government Brainstorming and Discussion phases have been stimulating and generative, but the real collaborative work, the real collaborative responsibility, and the real collaborative opportunity lie in the next phase of synthesis.
So get writing!
…and, to help you on your way, here's the combined Debategraph of the redacted proposals from the three brainstorming sessions:
June 23, 2009 | Filed Under
Barack Obama
,
Collaboration
,
Collaborative Democracy
,
Collective Intelligence
,
Consultation
,
Creative Commons
,
Critical Thinking
,
Debate Map
,
Debategraph
,
Debatemapper
,
Deliberation
,
E-democracy
,
eGovernment
,
Government 2.0
,
Open Government
,
Politics
,
Public Policy
,
Visualisation
,
Web 2.0
,
White House
|
1 Comment
In November 2009, the EU Ministerial declaration on eGovernment will be published at the Malmo conference.
Building on the Public Services 2.0 workshop in Brussels early this year, and at the initiative of David Osimo and Paul Johnston, we are teaming up other partners to crowdsource an Open Declaration on Public Services 2.0 to sit alongside November's ministerial declaration.

Echoing the Open Government initiatives currently underway at the White House, the process is beginning with an open brainstorming session to identify and evaluate a range of ways in which EU governments can harness the emerging power of the web to transform European public services.
We would love you to participate in this process by adding your suggestions and voting for others here before 15th July.
More details, including the plans for the second collaborative phase and the subsequent public endorsement are available here.
…and, in parallel with the formal process, I'll be keeping an informal eye on the proposals as they develop via the debate map below:
June 15, 2009 | Filed Under
Collaboration
,
Collective Intelligence
,
Consultation
,
Debate Map
,
Debategraph
,
E-democracy
,
eGovernment
,
European Commission
,
Government 2.0
,
Public Policy
,
Web 2.0
|
2 Comments