This Sunday I'll be live mapping the debates at the marvellous IQ2 Green Festival on Climate Change at the Royal Geographical Society in London.

The festival, for which tickets are still available, has assembled a fascinating group of climate change speakers, including: Professor Mohan Munasinghe, Sir David King, Stanley Johnson, Professor Chris Rapley, Joan Ruddock, The Viscount Monckton of Brenchley, Mark Woodall, Tony Juniper, Fiona Harvey, David Bellamy, Malini Mehra, Christine Loh, Isabel Hilton, Jonathon Counsell, Steve Koonin, Jeremy Leggett, Tom Burke, Ed Crooks, Michael Keating, and Oliver Tickell.
The full schedule encompasses a mixture of debates, seminars, and panel discussions, including: Climate change is the greatest threat to humanity, Countdown to Armageddon – how long have we got?, Can Asia go green? Can technological innovation save us from disaster?, Green Herrings – what we need and needn't bother doing, Biofuels – essential or a waste of time, UK political parties aren't serious about climate change, Green Capitalists – a contradiction in terms?, Geoengineering – is it the silver bullet? Renewables – wind, solar & other – are they worth the bother?, and Bioperversity: An obituary for the world's rainforests and other major ecosystems?
I'll be aiming to map as many of points being made by the speakers on the day, and building on the initial seed maps over the subsequent days—and you'll be able to follow the maps developing online on the IQ2 Green Festival website and on the Debategraph home page.
The current work in progress on the existing climate change map is shown below:
Feel free contribute to the debate maps from afar as they are developing, and if you are planning to attend the event with a laptop, join in and we can use the maps as an intelligent, multi-dimensional conference back channel.
I'm delighted to report as well that Anna De Liddo will be joining me to map the debates, and that Anna and I will be using the maps as one of the first building block in this year's ESSENCE Collective Intelligence project on Climate Change in the build up to the UN Climate Change Conference in Copenhagen at the end of this year.
Many thanks to Edie Lush and her team for conceiving and organizing the festival—and if you are planning to attend, don't forget to say hello!
January 22, 2009 | Filed Under
Argument map
,
Climate Change
,
Collaboration
,
Collective Intelligence
,
Critical Thinking
,
Debate Map
,
Debategraph
,
Deliberation
,
Essence
,
Global Warming
,
Politics
,
Public Policy
,
United Nations
,
Visualisation
,
Web 2.0
|
1 Comment
Cross-posted from: Independent Minds
To celebrate the launch of The Independent Minds blogs, and as part of our Obama project with The Independent newspaper, we are launching a global experiment to map the mind of the blogosphere.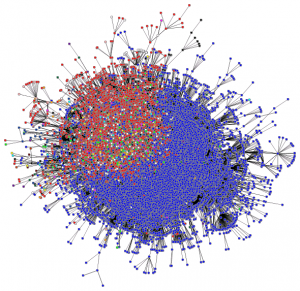 Source:
Matthew Hurst's Blogosphere Meta-Core
.
Not all of it, obviously… not, for example, the part that's thinking about Britney Spears and Angelina Jolie.
We're just focusing on the part thinking about the inauguration of the new President and the choices he faces. And we want to transfer the collective insight of the blogsophere into the map that's already building here.
Can we do it? With your help… yes we can.

We're not expecting you to learn the pros and cons of argument visualization; though if you want to stretch your mind with something other than a Crossword or Linkudo we'd love to help.
Instead, all you have to do, if you are blogger, is to let us know when you have posted about Obama and any of the policy issues he faces. You can do this in two ways:
(1) Include a link to the map in your blog post:
http://www.independent.co.uk/news/world/americas/article1022466.ece
or,
(2) Embed the map like a YouTube video, using the code below:
<iframe src='http://debategraph.org/flash/fv.aspx?r=7714&d=2&i=1′ frameborder='0′ width='490′ height='650′ scrolling='no'></iframe>
Then tag the post TheIndyDebate. When you do this, we'll detect the post and start to include your thoughts in the map.
Embedding the map will let your readers watch the map evolve in situ on your blog. And, if you link to or embed the map, we'll publish a reciprocal link (both here and on the Independent Minds blog) back to your blog.
Starting now with: Ideal Government, Contrary Brin, AlwaystheTwain.
If we miss a blog post, email me at david AT debategraph DOT org – and if you're not a blogger, but know someone who might interested in participating, please pass the links along.
December 1, 2008 | Filed Under
Argument map
,
Barack Obama
,
Climate Change
,
Collaboration
,
Collective Intelligence
,
Consultation
,
Critical Thinking
,
Debate
,
Debate Map
,
Debategraph
,
Debatemapper
,
Deliberation
,
E-democracy
,
Global Warming
,
Governance
,
Government 2.0
,
Open Education
,
Public Policy
,
US Election
,
Visualisation
,
Web 2.0
|
3 Comments