When you are developing a web application one of the most delightful compliments anyone can pay you is to start building on your work. And when the person building is an expert in multiple fields including your own, your joy is complete.
So a huge thank you today to Paul Culmsee and his colleagues at Seven Sigma Business Solutions for building and releasing the free Seven Sigma Debategraph WebPart for SharePoint – which lets you embed live debate maps into SharePoint sites and tune the display to fit enterprise SharePoint portals.

Paul, who has written a brilliant series of posts on the value of issue mapping to SharePoint projects, explains the underlying motivation for the web part:
"SharePoint is a terrific product for aggregating disparate information into a single integrated view. However it is oriented around linear, "list based" information, such as calendars, tasks, documents and the like. Argument visualisation tools like Debategraph do an excellent job of exposing the deep structure of complex problems or issues in a manner that makes argumentation and decision rationale accessible.

The Seven Sigma Debategraph web part for SharePoint provides a means to surface Debategraph argumentation maps within SharePoint. Through the release of this web part, Seven Sigma hopes to increase use of argumentation mapping techniques as a means to facilitate cohesive and productive discussions on complex issues."
To illustrate the potential, and working with fellow SharePoint gurus Andrew Jolly and Ruven Gotz, Paul has created the Debategraph below on SharePoint Governance – which is also the default starting map when you install the web part:
If you are SharePoint user and would like to experiment with the web part, you can download it here – where Paul also provides short video guides on installing and using the web part.
…and if you would like to learn more about the background to the web part and our collaboration with Seven Sigma, read Paul's characteristically insightful and engaging blog post here.
June 15, 2009 | Filed Under
Argument map
,
Collaboration
,
Collective Intelligence
,
Critical Thinking
,
Debate
,
Debate Map
,
Debategraph
,
Governance
,
Microsoft
,
SharePoint
,
Visualisation
,
Web 2.0
|
Leave a Comment
And so the kaleidoscope turns, and we see the world anew.
Or do we?
Barack Obama's inauguration today as the 44th President of the United States of America, marks the end of a remarkable personal and national journey. Arrival at such a destination is a cause for global celebration. But as with all great journeys the arrival is also only a beginning.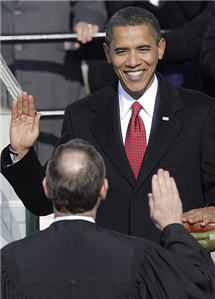 Obama is taking a leading role in a world system that is severely perturbed on multiple levels. Such perturbation often proceeds collapse: and can proceed the emergence of a more sophisticated and better-adapted system.
It's not clear—it never is—to what extent the choice of branching paths is open to us. But it surely behoves us to act as if it is.
My (personal) sense is that we face a mess of complex, interrelated and non-linear problems; sane responses to which lie beyond our existing methods and tools. In essence, we need to re-configure our modes of political thinking and organization to enable us—as local, national, and international communities—to move significantly closer to collective maxima of intelligence (both reasoned and emotional).
For those for whom the analogy is familiar, we're awaiting The Mother of All Demos in the political realm to match Doug Engelbart's technological masterpiece 40 years ago (which pre-figured much of the technological landscape that we inhabit and take for granted today). It's the social dimension of Engelbart's vision of augmented collective intelligence that lags behind our technological achievements: and it needs to catch up quickly.
The signs are that Obama, and the team around him, are mindful of this. As others have noted already, one of the most encouraging aspect of the Change.gov experiment was the speed at which the interaction on the site improved iteratively across the transition. The challenge now is how to crystallize this process—to enable genuine and deeply collaborative sensemaking—and how to set this process in motion in the first few months of the administration when the opportunity and receptivity to change are greatest—and when the character of the administration will be forged.

Readers of The Independent and others who have joined in developing the Obama and Gaza maps over the last couple of months have demonstrated on a smaller scale and in vitro that different and radically collaborative models of sensemaking are possible—and we are grateful to everyone who has participated directly so far, blogged about and embedded the maps, and to the BBC World Service's Digital Planet, BBC Technology and PRI's The World: Technology podcast for their support in spreading the maps more widely.
Both maps will continue to develop as exploratory exemplars of the kinds of cumulative, comprehensive and distillative sensemaking processes that the web is starting to enable—with the Obama map, in particular, shifting to a focus on the first 100 days.
Deeper challenges remain. The emerging set of collaborative sensemaking and deliberation tools of which Debategraph, is one example, are still nascent, still figuring out the basic principles—still more VisiCalc than Excel. The tools require a basic visual literacy that itself is only just beginning to emerge in society. And the maps, and other sensemaking constructs, require time to build and time for reflection in an impatient and attention-poor age.
But, today, of all days, is a day for optimism. The day on which Barack Obama embodies the realization that long journeys towards distant mountain tops can reach the summit.
Cross-Posted at: Independent Minds
January 20, 2009 | Filed Under
Argument map
,
Barack Obama
,
Collaboration
,
Collective Intelligence
,
Debate
,
Debate Map
,
Debategraph
,
Deliberation
,
E-democracy
,
Governance
,
Government 2.0
,
Politics
,
Public Policy
,
The Independent
,
US Election
,
Visualisation
,
Web 2.0
|
3 Comments